Shopping Basket
Your Basket is Empty
There was an error with PayPal
Click here to try again
Thank you for your business!
You should receive an order confirmation from Paypal shortly.
Exit Shopping Basket
| | |
| --- | --- |
| Posted on 1 March, 2015 at 17:22 | |
TREAT BROWN RECLUSE BITES WITH ACTIVATED CHARCOAL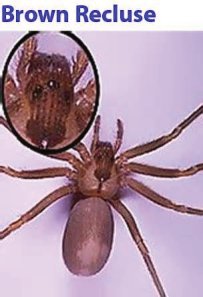 In the last post- I discussed the dangers of the Brown Recluse Spider, and their sudden prevalence in Southern California… in particular Brown Recluse Spiders in Huntington Beach.  Aside from using
Aunt Norma's Go away! Spider Powder
to get rid of an infestation and protect your house from the dangerous beasties, I wanted to also discuss an effective and safe "home remedy" to handle first aid and emergency treatment if, in fact, you are unlucky enough to get bitten. 
Aunt Norma's Go Away! Spider Powder
can be sprinkled anywhere you don't want spiders.  It not only repels spiders, but will kill any creepy crawly that comes into contact with it within 48 hours.  As discussed in the previous conversation on Brown Recluse Spiders, their bite can be very dangerous and requires immediate medical attention- especially in the very young and very old.  The bites are particularly dangerous because it kills the surrounding tissue and can spread indefinitely (as seen in the disgusting photo below...if you want to ruin your dinner, Google "Brown Recluse Spider Bite"...)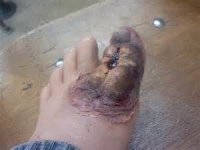 I have personally known two people who have been bitten by the foreboding Brown Recluse, and they had very different experiences, based on how they first treated the bite.  My one friend, let's call him "Mike" (mainly b/c his name is Mike, haha) encountered a brown recluse spider while at work in an old house in Southern California.  Not realizing he had been bitten, he did nothing and was confused as he began to feel ill and watched his leg swell to twice it's normal size.  Finally- after experiencing some nausea and dizziness, he thought perhaps he was having an allergic reaction to something and went to the ER.  Long story shorter, he spent over a week in the hospital and had serious complications that left him with lifelong health issues and a really horrific scar.  They basically had to use a drug so strong to treat the effects of the bite that it ruined his thyroid and he will take thyroid medicine for the rest of his life.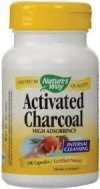 The other friend was unpacking moving boxes in Virginia and saw the spider, was bitten, and took a photo of it and Googled it to see if he could figure out what type of spider it was.  When he realized that he had, in fact, been bitten by the dangerous Brown Recluse, he wasn't sure what to do, until his girlfriend told him the first thing they should do was to place a poultice of charcoal on the bite.  (thank GOD for a resourceful  girlfriend!)  She intended for this to be an emergency first aid while they drove to the hospital, but they both quickly realized that the charcoal was immediately helping the bite and was bringing the swelling down.  They decided to take a "wait and see" approach, and within a few hours knew that the charcoal was absorbing the toxins and they determined to skip the ER.  Today, THIS friend has only a scar the size of a cigarette burn, and swears by the powers of charcoal!
                Now, you all know that I love a good ole' natural home remedy…especially one that uses simple, inexpensive ingredients and has no side effects… so of course I've been using charcoal for years to treat everything from food poisoning to pimples.  I'm happy to say that I've never had to treat a Brown Recluse spider bite, but I wanted to pass this remedy on for those of you who are dealing with this pest.   First, let me tell you a little bit about charcoal and why/ how it works on toxins. 
     Charcoal has a safety record that goes back 3500 years (compare that to the 10-30 year clinical trials of today's most popular "designer" drugs…).  The simplest concept of charcoal that comes to mind is the remains of wood burned after a campfire has gone out.  This is basically dehydrated wood, but charcoal can come from a variety of sources such as animal bones, or coal, but for medicinal purposes it comes from plant-based sources such as hardwood, bamboo, coconut, or peat.  But what is left after the fire goes out is pure carbon.  What makes the structure of charcoal unique is it's physical structure of folds and cracks the hide a tremendous surface area, which can electrostatically bind a large amount of chemicals and toxins. 
    By subjecting this raw charcoal to the "activation" of oxidizing agents such as air, steam, or oxygen, at high temperatures, the internal structure of the charcoal particle is further eroded creating an even greater surface area.  One teaspoon of activated charcoal powder has about the same surface area as a football field. This enormous surface area, along with charcoal bonding properties, allows it to "absorb" large amounts of gases, poisons, toxins, and pollutants.  Furthermore, charcoal has no knowm poisonous side effects!  This is why charcoal is an EXCELLENT topical to adsorb the venom in the brown recluse spider bite (if applied as first aid). 
    Within 24 hours of a Brown Recluse bite,  a purplish-red blister develops at the site, and extensive tissue death occurs underneath the area. This produces a very deep and angry ulceration that may extend as far as down to the bone. The condition often lasts for weeks or months, and typically leaves a deep puckered scar. That is, if amputation or  surgerydoes not become necessary.  There is no antidote and no truly effective anti-venom. The anti-venom must be administered within 24hours, and in most cases it is only after 24 hours that the person realizes they are a victim of a recluse spider. So, in hopes of physically removing all of the poison, the treatment often resorted to is that of wide surgical excision - cutting away of any flesh containing venom. But there is safe and very effective natural remedy that has been used for centuries to treat poisonous bites including those of the recluse spider.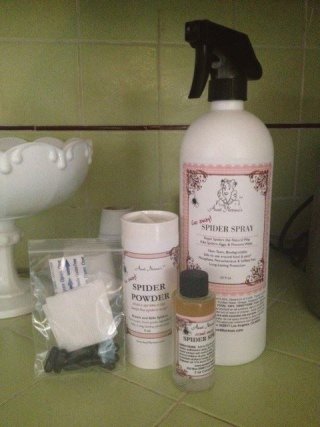 It has been discovered that a very effective and easy treatment for brown recluse spider bite is an activated charcoal poultice or compress. At the first suspicion of a Brown Recluse Spider bite, start applying charcoal. As with the remedy, the sooner the better. Simply sprinkle some charcoal on the wound or, if larger, on a bandage, and place on the wound and wrap or bandage tight enough for the charcoal to stay in contact with the bite area.  You can also mix the charcoal powder with enough water to make a "slurry" and then place that on the wound and cover.  Do not mix with anything oil-based as it can decrease the efficacy of the charcoal.   For the first eight hours, change the compress about every thirty minutes. On the second day, the time interval for changing the poultices or compresses can be lengthened to two hours, and then to four.  You should keep this up for at least a week, maybe longer, until you no longer see evidence of inflammation from the bite area. 







 


Categories: Get Rid of Brown Recluse Spiders

0

/