Shopping Basket
Your Basket is Empty
There was an error with PayPal
Click here to try again
Thank you for your business!
You should receive an order confirmation from Paypal shortly.
Exit Shopping Basket
| | |
| --- | --- |
| Posted on 17 December, 2014 at 23:27 | |
HOW TO GET RID OF PANTRY MOTHS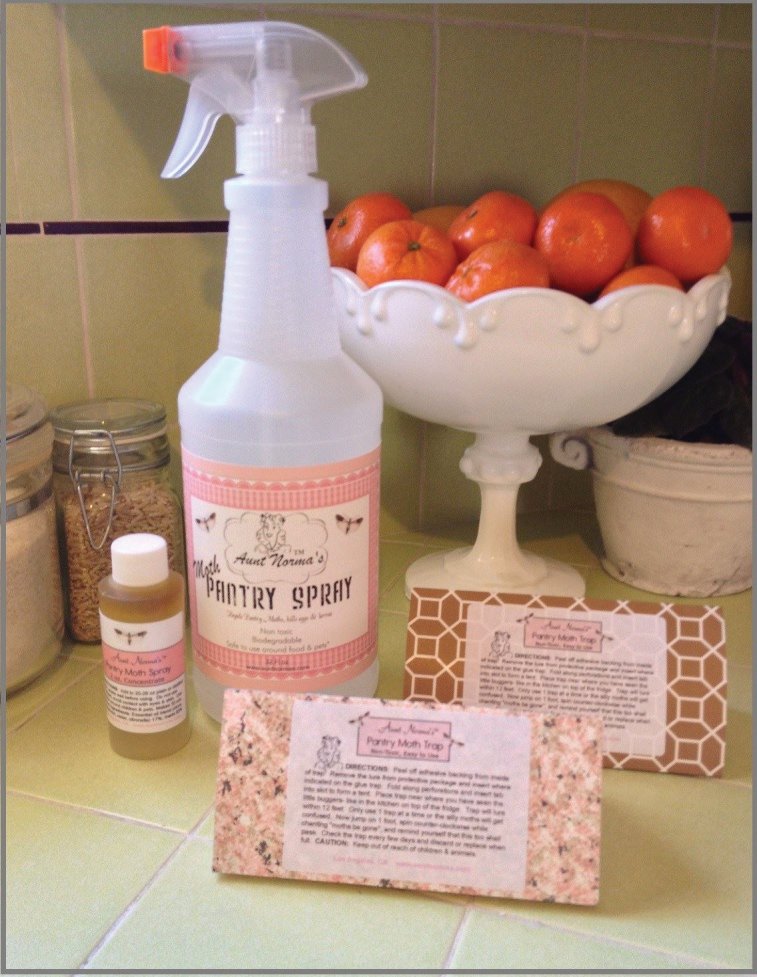 (These are the instructions from
Aunt Norma's Pantry Moth Spray
... if you don't want to purchcase the spray- you can try filling a spray bottle with white vinegar and dish detergent in place of the Pantry Moth Spray)
      Now that you are thoroughly disgusted and understand the enemy, it's time to get started.  There is a lot of work to do, and sadly, there is no shortcut.  This is war.  You need to begin by removing every item from your pantry.  You will be tempted to avoid this step, but it is crucial.  Next, throw out pretty much everything.  If you can't bring yourself to toss hundreds of dollars of food into the trash, there are some alternatives, but be warned, it might not get rid of the problem and you could end up having to toss everything a few weeks later anyways.  FIRST, you can transfer any items that don't seem affected into the freezer.  None of the stages of the organism (eggs, larvae, adults) is very temperature-tolerant and all can be killed by a week of freezing or by brief heating in a microwave or conventional oven when such treatment is practical.  Just make sure that your freezer is set to its coldest setting or the little buggers will merely hibernate.
ELIMINATE THE SOURCE    

NEXT
, if you want to keep some items like canned goods and spices, you must inspect each one and then wash them in hot, soapy water or
Aunt Norma's Pantry Moth Spray
.  Check everything, like inside the spice bottle lids and behind the canned good labels.  Do this for every single thing that will be returning to your cupboard.  If you miss some eggs or larvae, they will turn into moths and start reproducing again.  This is the most common reason for "re-infestation".  Nothing is safe.  Check baskets, shelf liners, cookbooks, and recipe boxes.  Trust me, you only want to do this once, so do it right.
            NOW you need to clean the pantry like you've never cleaned before.  Cancel your plans for the rest of the weekend.  Remove any loose shelf liner, and wash down all surfaces with hot soapy water.  Next, Spray Aunt Norma's liberally on all surfaces (and under shelves, in corners, etc.)  Use the far-reaching sprayer to get into areas like door hinges (a favorite place for moths to cocoon), ceilings, holes, corners and spaces or gaps where the panels don't completely meet.  It is best to wear gloves and a mask for this step.  The spray contains non-toxic ingredients as well as essential oils and other insect repellents that not only kill the eggs and larvae but deter the adult moths from returning to lay more eggs and start the process over again.  You can wipe the areas lightly with a damp sponge to spread out the formula, or to absorb some if you went nuts with the spray and your pantry is dripping.   Allow to dry before returning any food to the pantry.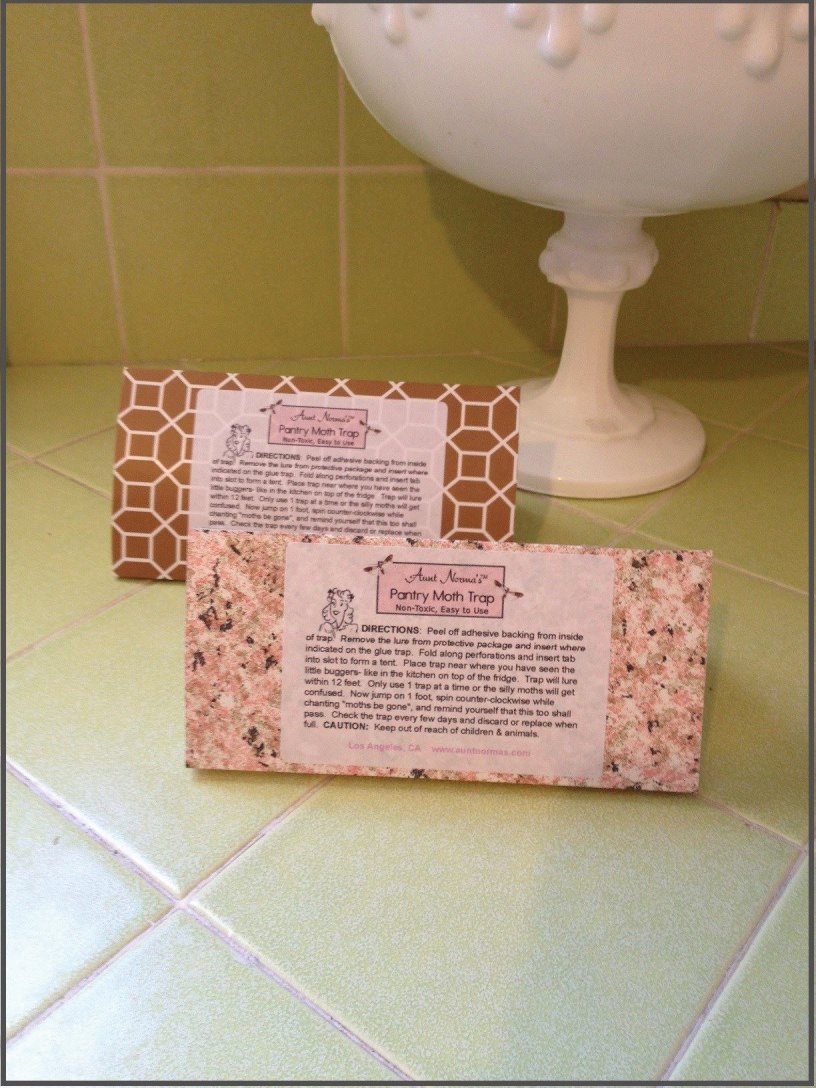 At this stage
, hopefully you have killed all the existing eggs and larvae, but you are probably going to still see some adult moths flying around over the next few days to weeks.  Some might've escaped when the cleaning started or were hiding in another part of the home.  They won't want to return to the pantry, though.  After all, there's no food for them anymore and they HATE the smell that the spray leaves behind, but they are desperately looking for a place to mate and lay eggs.  It is at this point recommended to set out a
Pantry Moth Trap
to kill any escapees that you either missed or that have hatched
after
you cleaned.  This is a pheromone trap that lures the males and can be a good alternative to spending all of your free time moth-hunting.   In any case, don't panic if you continue to see moths.  With one female laying up to 300 eggs a day, it is unlikely that you killed ALL of the eggs hidden in your home.  The process works by interrupting their life cycle, but this can take some time for them to
all
die-off.  As long as you keep them from getting back into the food (with the freezer method and with the spray scent in the pantry), they are doomed. 
SEARCH AND DESTROY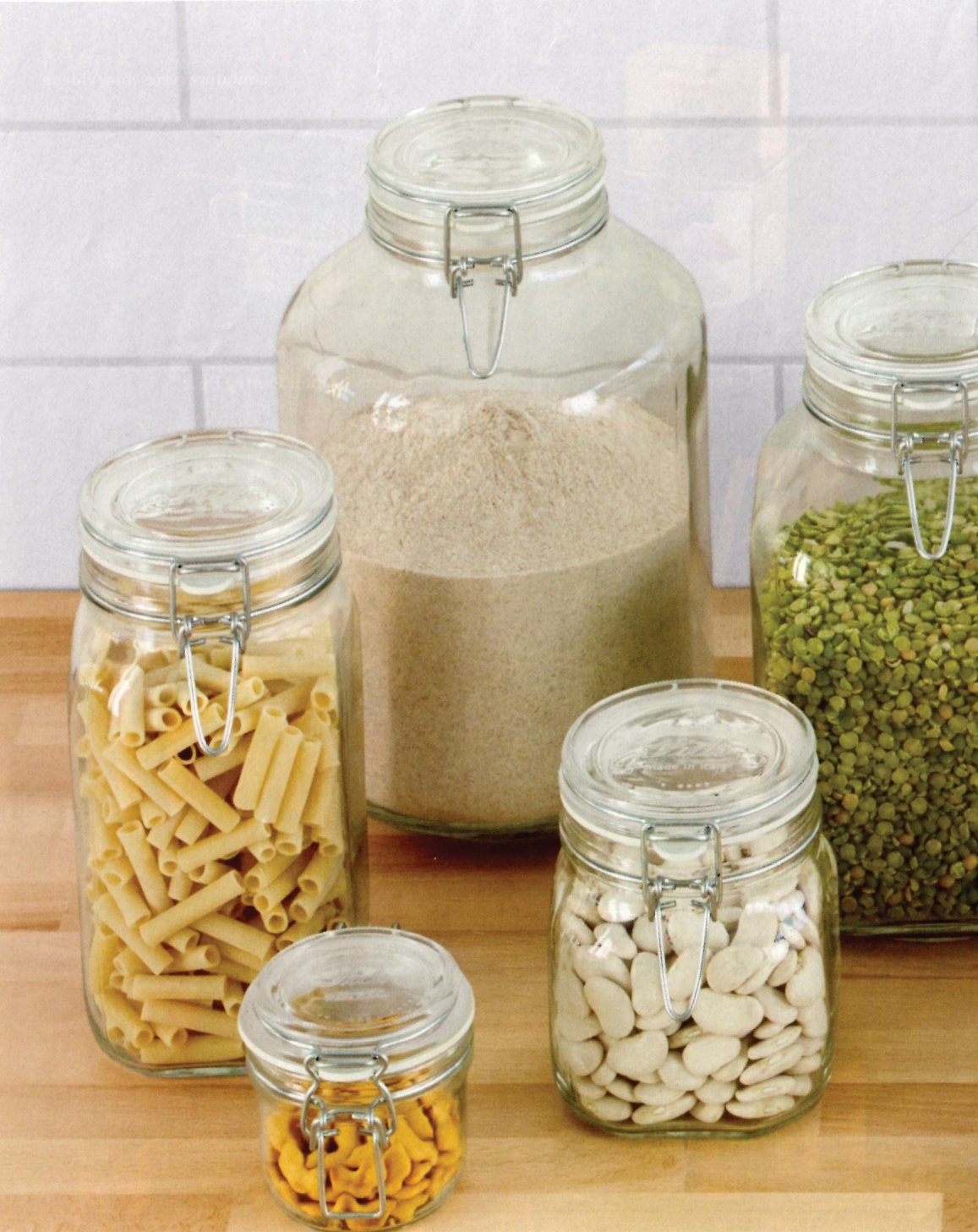 Collect your family members and anyone living in the house and instruct them to hunt and kill any adult moths they see.  If you have issues about bug-killing or are worried about karma, get over it…quickly.  You have a small window of opportunity to kill these remaining menaces or you will be back to square one before you know it.  If you need some motivation, keep in mind that these creatures are

not

nice.  They are actually carnivorous and are programmed for survival.  They might even try to attack you when you swat at them.  Don't be fooled, they are

not

cute and they are

not

your friends.      You can also discourage re-infestation by using

Aunt Norma's Pantry Moth Spray

to frequently touch up the pantry.  You can spray directly around sealed food containers as the spray is non-toxic.  The moths hate this stuff.  Keep all foods in airtight, preferably glass, containers, and store whatever you can in the freezer.  Good Luck!







meal moths, get rid of pantry moths, moths in the pantry, pantry moth traps, Aunt Norma's Pantry moth spray, Aunt normas pantry moth spray, worms in food, natural pest control, Indian meal moths, essential oils that repel bugs, essential oils that repel moths, safe pesticide, kill pantry moths, natural pesticide, non toxic pesticide, moth infestation, moth problem, pantry moth problem, pantry moth infestation, grain moths, grain moth, moths in food, moths in flour, pantry bugs, bugs in kitchen, bugs in the kitchen, moths in kitchen, moths in the kitchen, pantry moth, moths in pantry, flour moths, flour moth, pantry moth, moth spray, Aunt normas  pantry moth spray, worms in food, natural pest control, Indian meal moths, essential oils that repel bugs, essential oils that repel moths, safe pesticide, kill pantry moths, natural pesticide, non toxic pesticide, moth infestation, moth problem, pantry moth problem, pantry moth infestation, grain moths, grain moth, moths in food, moths in flour, pantry bugs, bugs in kitchen, bugs in the kitchen, moths in kitchen, moths in the kitchen, pantry moth, moths in pantry, flour moths, flour moth, pantry moth control, pantry moth trap







Categories: How To get Rid of Moths

0

/