Shopping Basket
Your Basket is Empty
There was an error with PayPal
Click here to try again
Thank you for your business!
You should receive an order confirmation from Paypal shortly.
Exit Shopping Basket
Aunt Norma's™
How to get Rid of Bugs and Insects Naturally with
Kills & Repels kitchen pests including ants, flies, cockroaches, spiders, silverfish, centipedes & earwigs
Non-Toxic, Biodegradable, safe around food & pets
Phosphate, Petrochemical, & Sulfate free
Long lasting protection
Food Grade & Natural ingredients
EPA 25-B approved ingredients.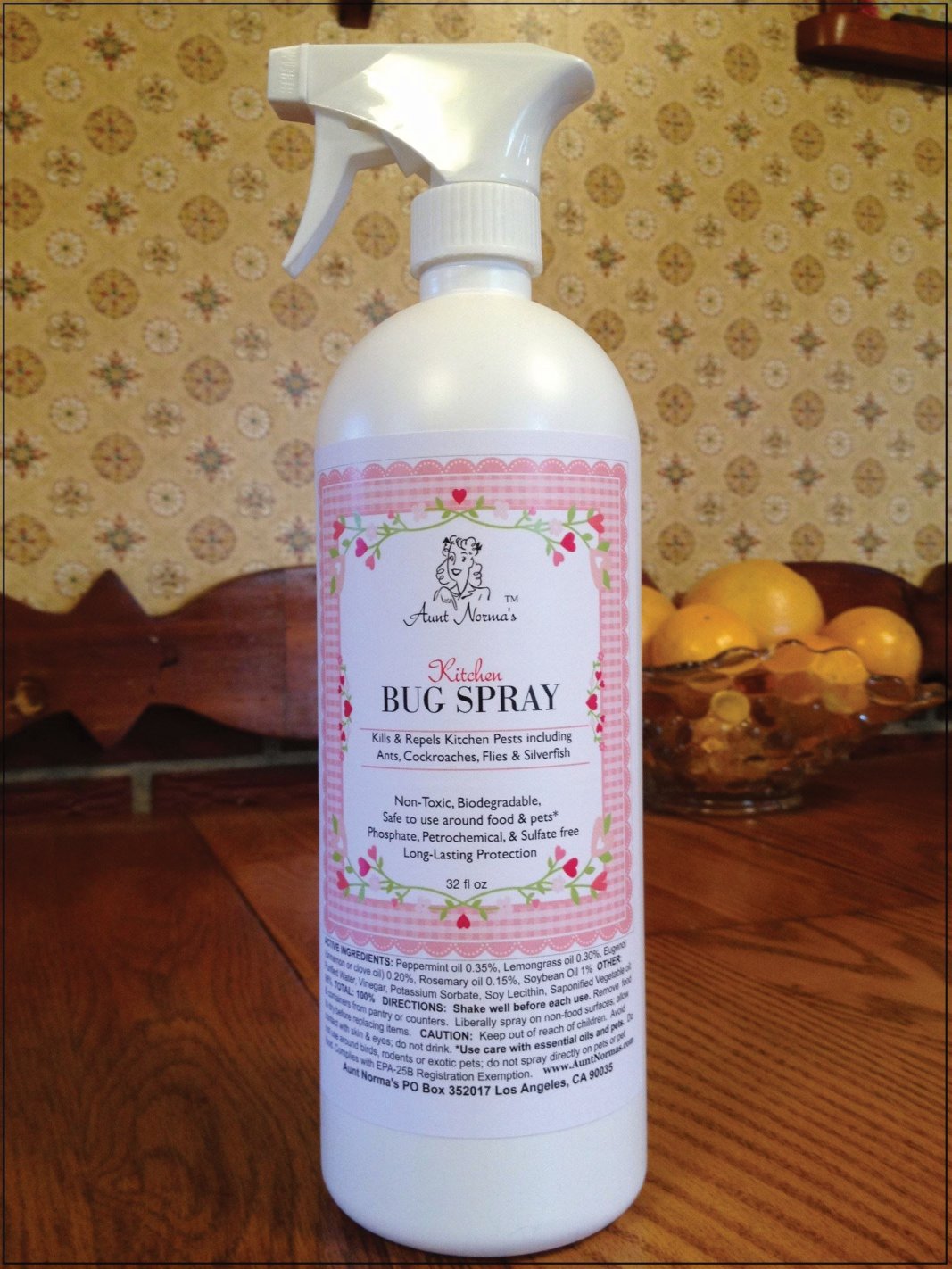 Aunt Norma's™
Non-Toxic Kitchen Bug Spray
provides a safe & effective way to deal with the common kitchen pests that, well, pester us in the kitchen.  If the idea of using a chemical
strong
enough to kill bugs (but supposedly harmless to humans) in the place where most of your family's meals are prepared doesn't sit right, you are not alone.  Luckily, nature has provided us with alternatives.  Aunt Norma's™ is the only non-toxic formula specifically designed to be used in the kitchen.         Aunt Norma's™
Kitchen Bug Spray
uses ingredients derived from plants, vegetables, and natural food sources.  It is free from dyes, artificial fragrances, masking agents, contains no phosphates, sulfates or petro-chemicals, and is safe to use around food, children and most pets.*  Our unique formula utilizes natural insect repellents like peppermint oil, lemongrass & rosemary, combined with a non-toxic insecticide agent derived from vegetable oils.
Directions:  Shake well before each use.  Remove food & containers from areas.  Liberally spray on non-food surfaces.  Allow to dry before replacing items.  Touch up by lightly misting in areas prone to pests to keep the scent fresh enough to repel bugs.  Best used in conjunction with Aunt Norma's™ non-toxic Go away! Bug Powder.    Caution: Keep out of reach of children.  Avoid contact with skin & eyes; do not drink.  Use care with essential oils & pets: do not use around birds, rodents, or exotic pets.  Do not spray directly on pets or pet food.   In the event of an accidental overdose, contact a healthcare professional immediately. 
Aunt Norma's
PO Box 352017
Los Angeles, CA 90035
Get rid of bugs, How to get rid of bugs naturally, kill spiders naturally, non toxic bug spray, non toxic pesticide, how to kill bugs, bugs in the kitchen, essential oils that repel bugs, keep food safe from bugs and worms, worms in food, natural bug spray, non toxic spider spray, how to get rid of ants, meal moths, get rid of pantry moths, moths in the pantry, pantry moth traps, Aunt Norma's Pantry moth spray, Aunt normas pantry moth spray, worms in food, natural pest control, Indian meal moths, essential oils that repel bugs, essential oils that repel moths, safe pesticide, kill pantry moths, natural pesticide, non toxic pesticide, moth infestation, moth problem, pantry moth problem, pantry moth infestation, grain moths, grain moth, moths in food, moths in flour, pantry bugs, bugs in kitchen, bugs in the kitchen, moths in kitchen, moths in the kitchen, pantry moth, moths in pantry, flour moths, flour moth, pantry moth, moth spray, Aunt normas  pantry moth spray, worms in food, natural pest control, Indian meal moths, essential oils that repel bugs, essential oils that repel moths, safe pesticide, kill pantry moths, natural pesticide, non toxic pesticide, moth infestation, moth problem, pantry moth problem, pantry moth infestation, grain moths, grain moth, moths in food, moths in flour, pantry bugs, bugs in kitchen, bugs in the kitchen, moths in kitchen, moths in the kitchen, pantry moth, moths in pantry, flour moths, flour moth, pantry moth control, pantry moth trap
/